I Cry, I Cannot See
by Dasha Golova, 2021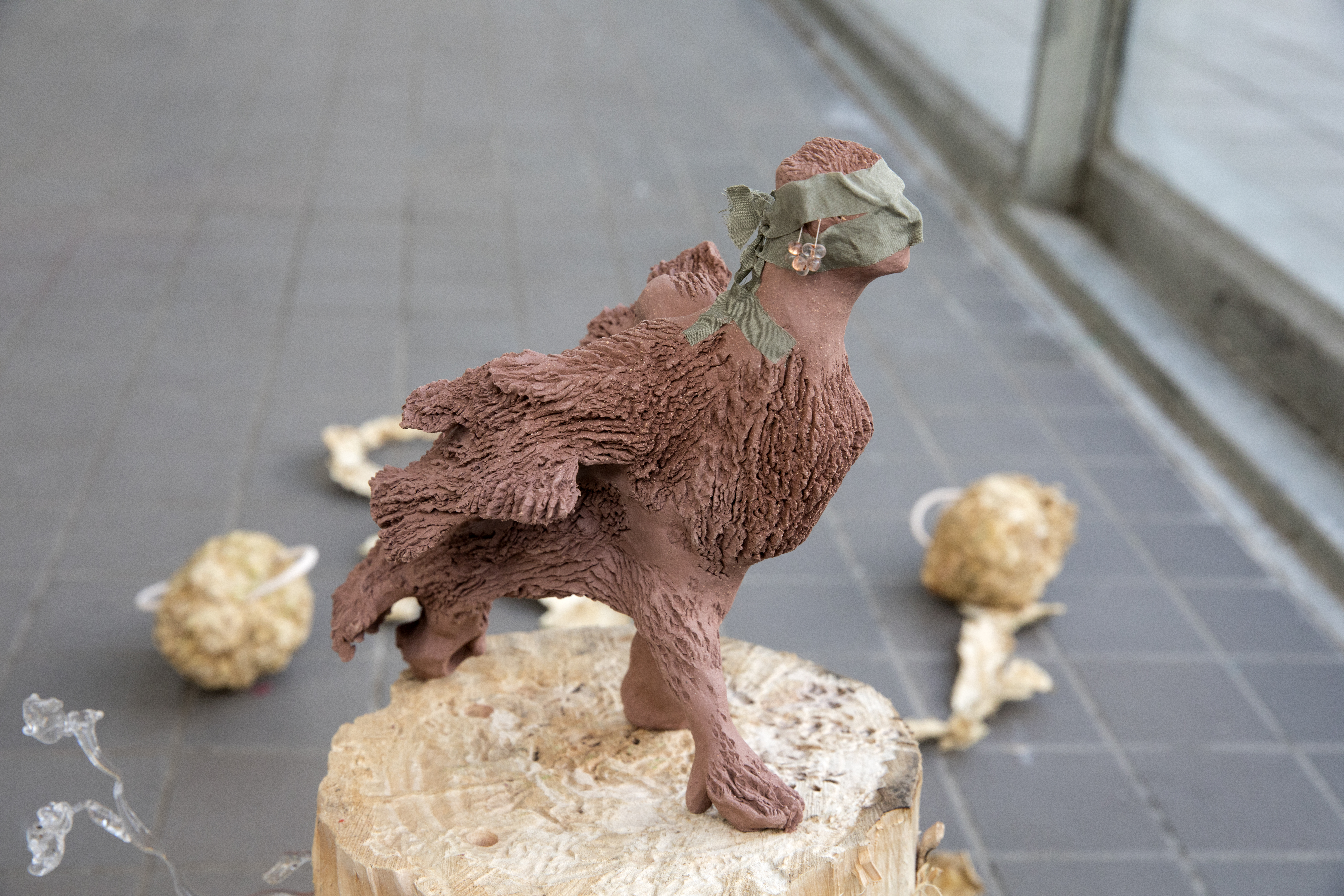 плачу я. I болей не магу глядзець
by Даша Галава, 2021 (interpreted by Masha Maroz)
My fortress losing skin and sorrow, the weight of time,
no longer guarded nor abandoned.
New
spring
scaffoldings spread from roots to heavens, sending virtual hugs to spirits in
the overflowing Shadows.
Масты спускае ўніз мая фартэцыя,
скідае па-за сцены смутак, час -
яна ўжо болей не бароніць, спусцелыя яе пакоі.
Ўсходы
крохкіх рыштаванняў
пранізваюць вясновае паветра
ад каранёў і да нябёсаў,
Centred dynamics taking an era to appear, tending to wake up the beheaded.
They persist in our patterns, true parasites.
Centred dynamics taking an era to appear, tending to wake up the beheaded.
They persist in our patterns, true parasites.
Centre is playing the game of seduction,
it throws the lassoes, the rings of cycles, busy hooking fertile seed.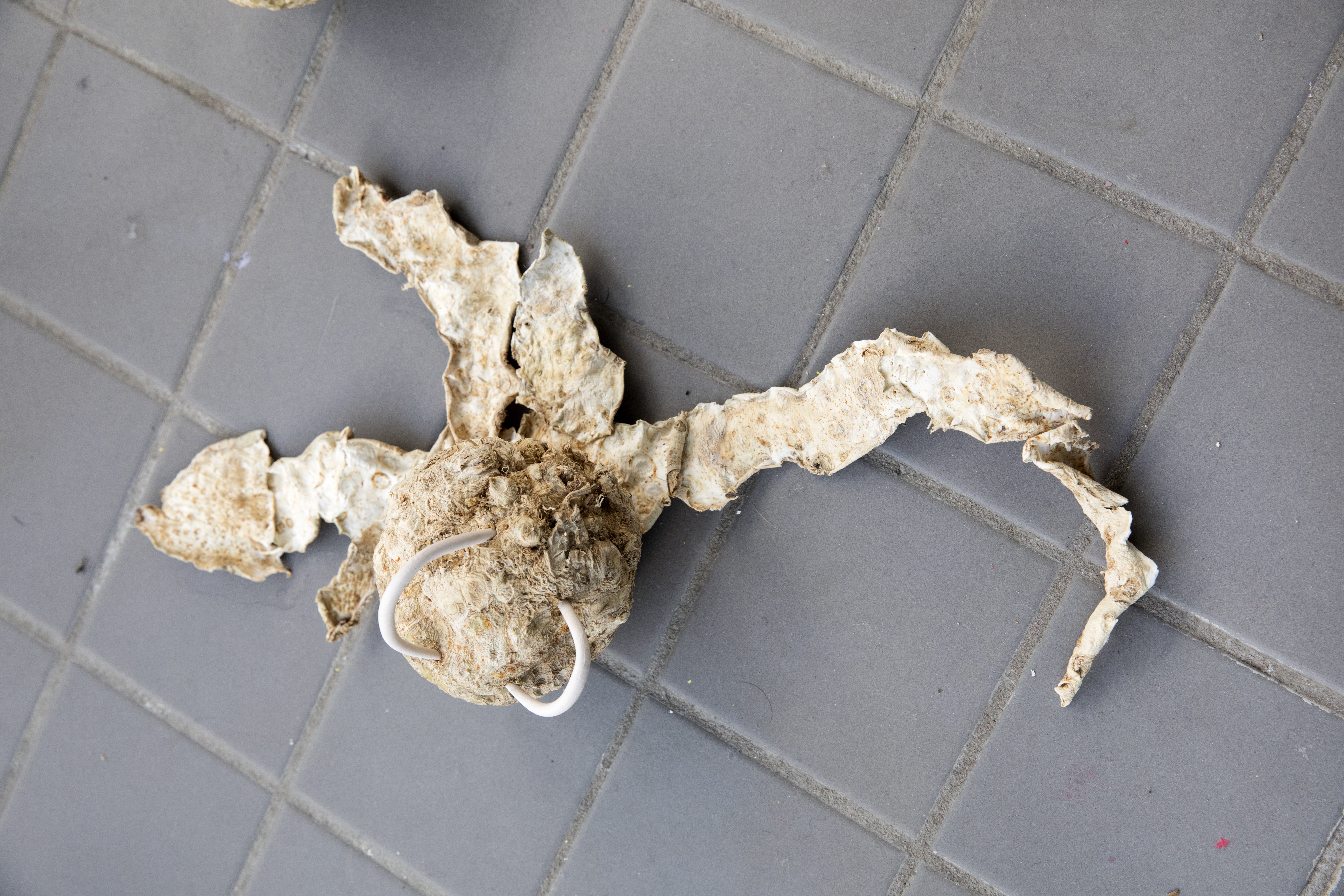 лагодна беручы ў абдымкі душы, скрадзеныя Ценем.
І сінгулярнасць эга ашалела, па-вар'яцку
штурхае нас на рэльсы састарэлых цыклаў.
І ласціцца яно, палюе, спакушае,
кІдае ласо
і кольцы даўніх эраў,
і жменяю ўрадлівага насення частуе страўнік той
which scratches a tiny bird's intestines.
Through
the thickness of generations I hear
her voice. Unplugging the counterfeit devotion,
I will assert that there is a star somewhere, I will believe in the unquenchable light.
Remember Sunset is hosting the Moon by largely opening its arms.
Скрозь тоўшчу пакаленняў
трапяткі яе голас чую я.
Ёсць па-за цемрай ночы зорка ўдалечы, нясгаснае
яе святло,
сцвярджаю гэтак!
Праменні Сонца, што вітаюць Месяц,
гасцінна распрасцёршы рукі сэрца.
And
that tiny bird,
its song
is sweating in my throat.
I cry,
I cannot see.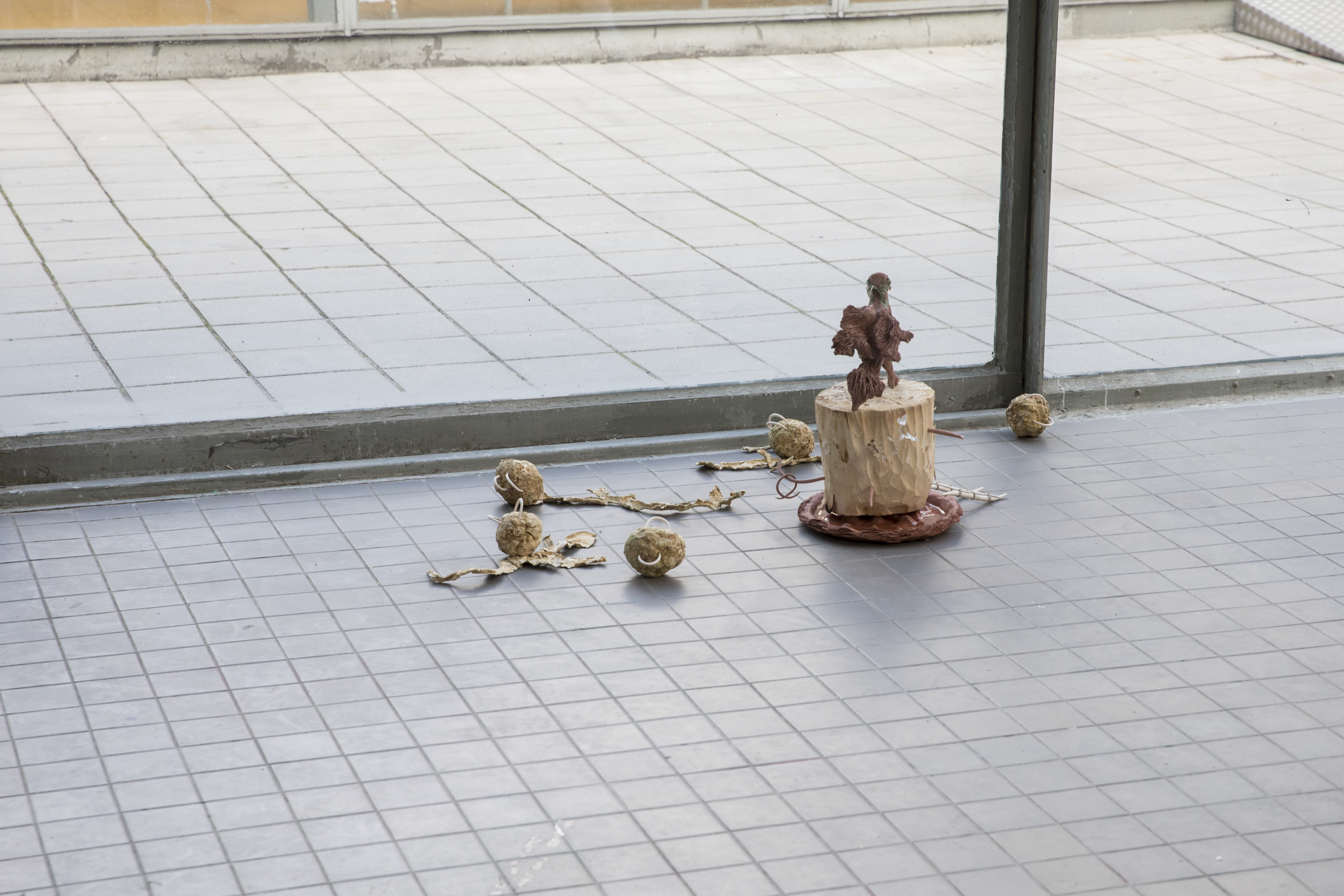 Ёсць тая птушачка,
чый спеў
у маіх грудзях.
І плачу я.
І болей
не магу
глядзець.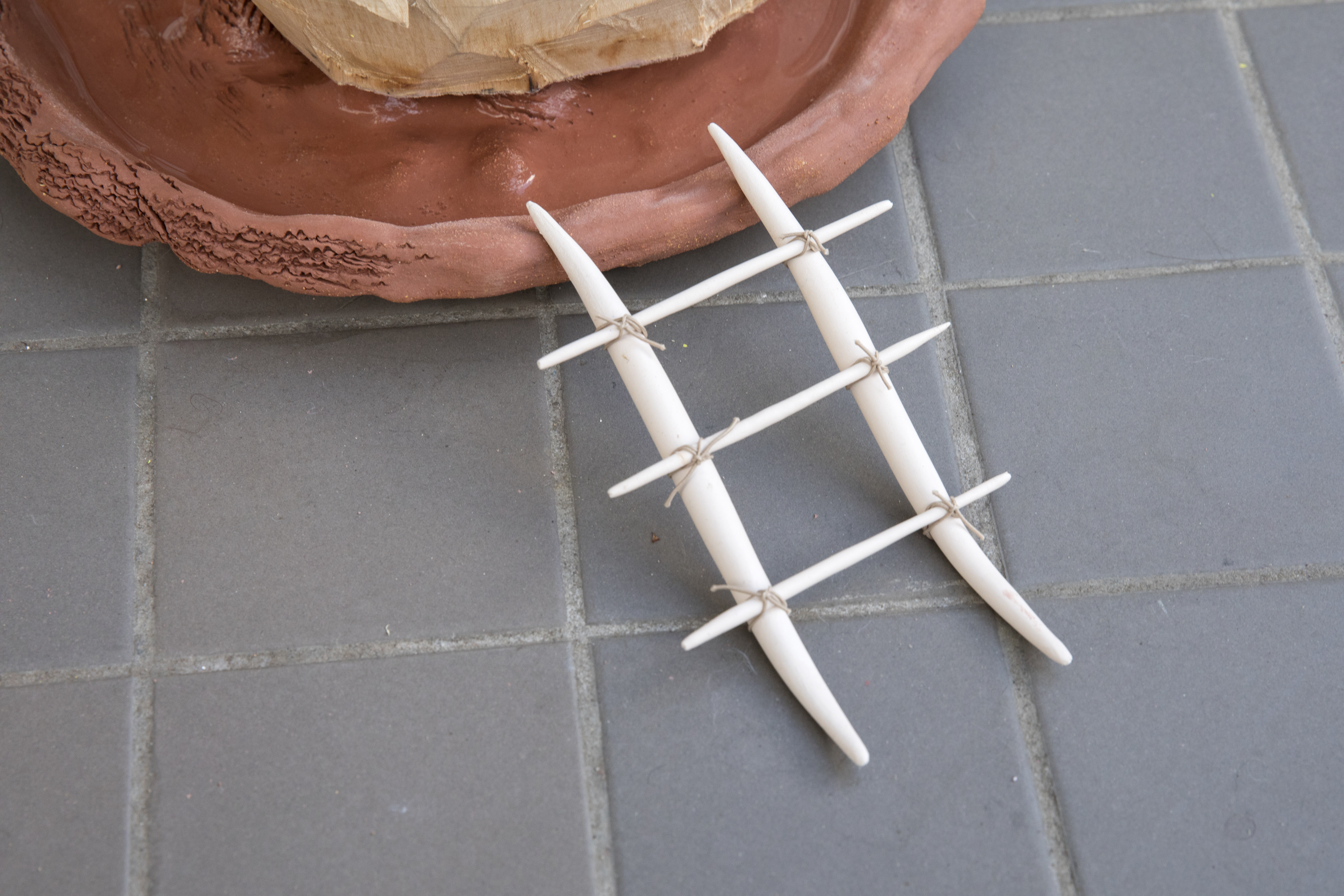 - I Cry, I Cannot See
Sculptural illustration to the eponymous poem that is written in both English and Belarusian languages.
Exhausting instincts of protection and counterstance are being transformed into a new architecture by shedding the skins of old orders. It is about slowly surmounting lifelessness by building fortresses of my own sensibilities and beliefs to defeat the imposed and suffocating systems.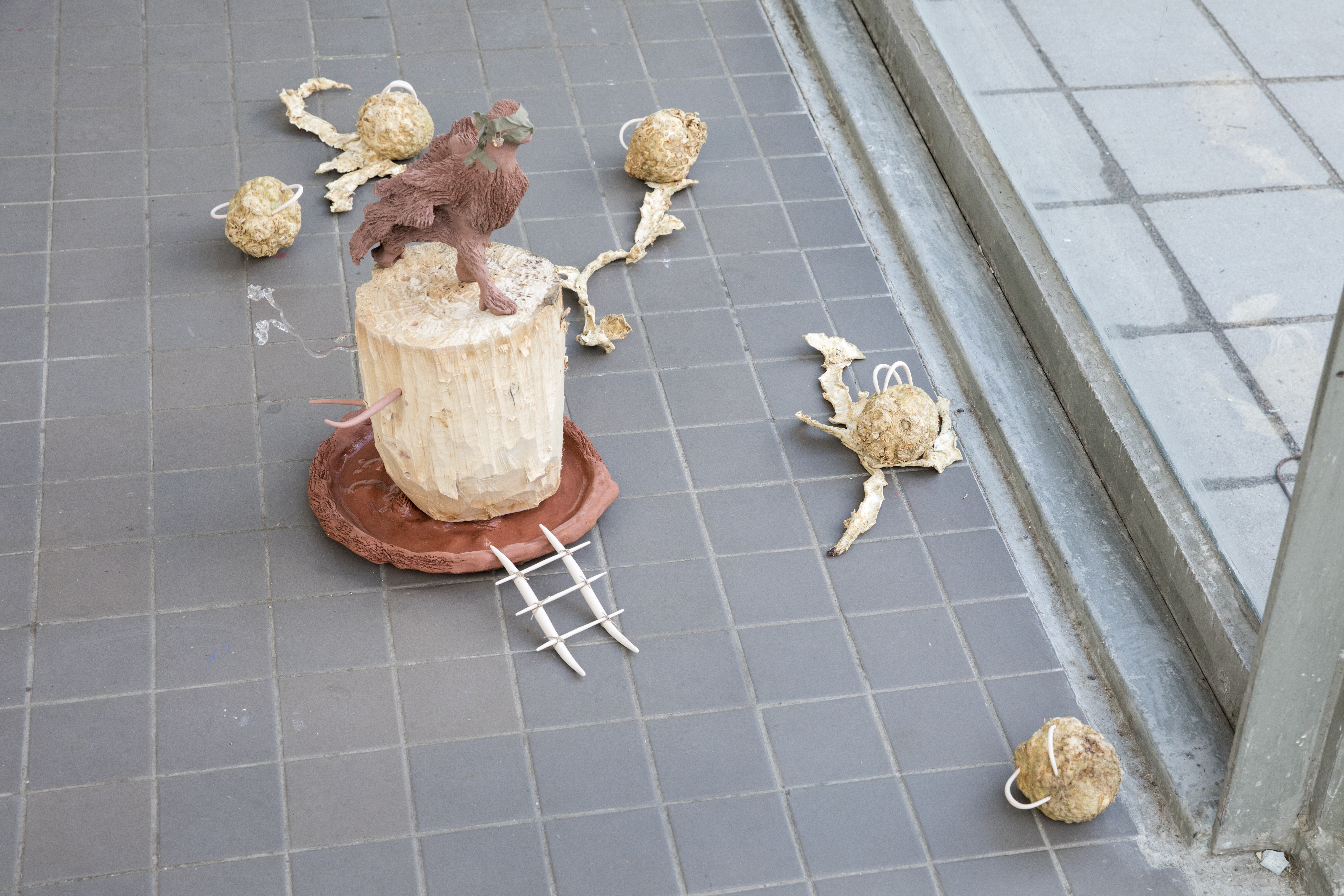 This work served me as a portal and translator of my own feelings, realisations, experience and personal work to accept my background.. Something that was almost fossilised inside of me and never questioned or studied got revealed. The accelerator was the mother tongue. The poem was originally written in English, a third foreign language I learned, while becoming an artist in exile. It was translated and then interpreted by my dear friend Masha Maroz.
Reading my own poem in belarusian for me was to talk to a version of me that never existed but was so close to me. The poem describes the phenomenon of inaccessible information and culture, as a result of long lasting oppression, cultural cleansing, murdure and russification of Belarus. (Let's keep here only Belarus, but my father is Mordovian, my grandmother is from Kazakhstan.) The poem has an infrastructure that represents the inner world, where instead of defence by building fortresses one starts to sprout sensitivity and love towards the blurred connection that used to feel so wrong and forein.
The presence of time is forming circles and centres, which are layers of matters, histories, personality and its expansions. Fertility or new eras, new ideas comes with time and a tiny bird is the metaphorical element that through its intestine makes the seed ready to be accepted by the ground. The bird and its song are connecting us with the past, the voice of the bird is not a lullaby, it is a dimmed scream of culture. The seed is out, it is displaced but finding a new home, new place for roots. It grows by being irrigated with its own tears of sorrow, an intrusive feeling of not being able to look back.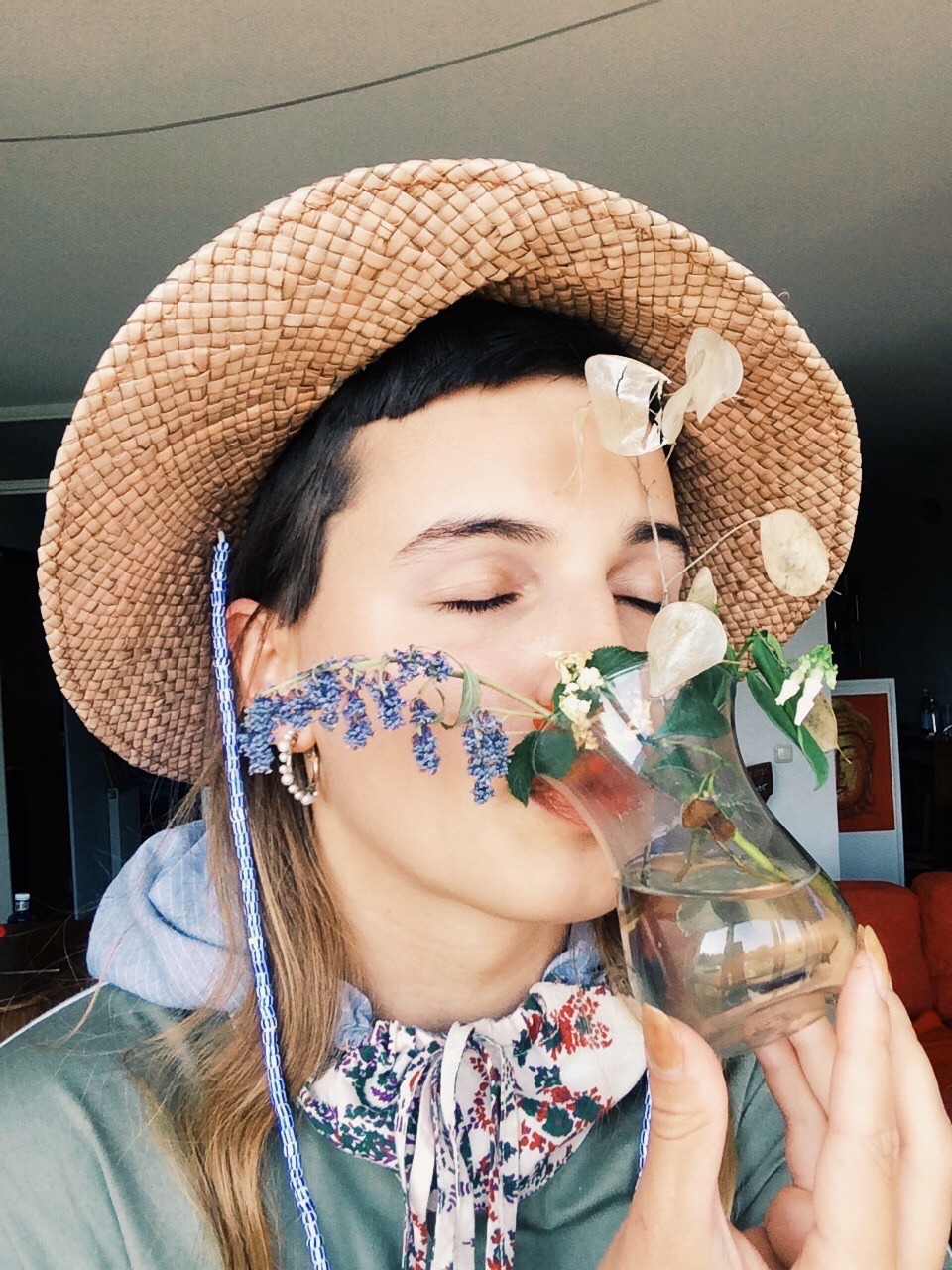 There are a thousand ways to repair a structure and thousand more to make a hole. My practice originates within the relations that mingle in-between the fabric of society. My interest lies in the combinations of groups that compose this society, and their individual relationships to the world which surrounds them. This process often leads me towards the creation of temporary communities which, by replacing the 'real world', facilitate the artistic work itself. The social sensibility within my practice is based on empathy, listening and identifying seams that keep the body of the imagined group or an entity together. I visualise myself as a tiny seam ripper.
I sense the importance of highlighting marginality, which has led me to reconstruct the ideas of support and care within sculpture, installation and performance art. Moreover, it has opened a space in my practice that can hold the fragility of my material structures and reinforce the social relation within the groups I create, allowing them to co-exist. My curiosity towards reconstruction of material structures and human relations into performance, an event or installation is what culminates my craftsmanship into an expanded art form and defines my role as an artist. The focus on margin, craft, detail and repetition originates from the desire to build and forge, to influence the outer world by the inner one, and vice versa.
I feel fluid with materials such as textile, clay, voice (particularly vocal non-linguistic expressions) and food for their flexibility; they inspire me by their accessibility, origin and almost immediate results in the act of creation. Recently I have been exploring techniques such as flamework on glass and in a parallel to it I investigate sound (theremin), which both require maximum concentration and charge with the necessary coordination of movements. I believe in the ability of material to shape the artist.
The objects I create often operate in aesthetic, symbolic and social registers. Their materialities, shapes, and assigned functions perform as connective and empowering agents towards assembling a new social composition - weaving a new social fabric.